Let's say you're an indie game development team, and you don't have the money or time to develop your own game assets. There is only so much you can do with limited manpower and a low budget.
You might be good at coding, but procuring graphics and soundtracks for your game is a totally unique challenge on its own. Even if you are decent at creating some basic artwork by yourself, you don't want to cripple your otherwise awesome game with slick code by incorporating mediocre visuals.
So, instead of painstakingly creating all the assets by yourself, you will simply use someone else's work. But it costs a lot of money to hire a 3D artist or music composer for your game. Paying to create your own assets from scratch is out of the question. However, you can use free assets available online to complete your project.
Thankfully, there are numerous sites that offer free 2D and 3D game assets along with all sorts of extra stuff including sprites, logos, artwork, sound files, etc. Can you create your game entirely with free assets? If you're looking to make a high-quality commercial product, probably not. Even with paid asset packs, you are taking a swing in the darkness.
For example, you spend 30 bucks on a 2D asset pack for spaceships. But your spaceships need weapons. You go searching for weapon packs, only to find that none of them match the art style of your spaceships. Free online assets are even more difficult to work with, and you cannot design a decently complex game with free assets alone. They can vary wildly in terms of quality, and you need to get a collection of assets that match the general theme of your game.
So, where do free game assets help you out? If you're creating a prototype game for demo purposes, or to test out a concept, free assets can help you patch the gaps in production for zero cost. Missing a fighter aircraft on a certain level, but you're low on time? Not a problem, you can visit a site like the Blender 3D Model Repository and grab what you need for free.
The article is going to give you 21 of the best free sources for game assets, to help you begin your career as a game developer. Note that some of these sites will contain both paid and free assets, so take a look around and see if you like something.
Check the description of the asset to know what licenses it has and whether it is free. There are both awesome and terrible free assets on display, so invest some time into finding the perfect one for your specific game.
Open Game Art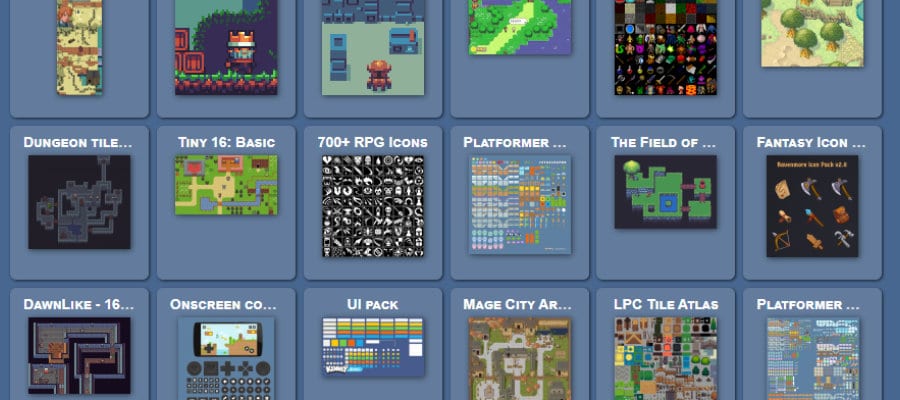 If you're looking for free game graphics, this site is the first place you should visit. Originally created as a forum for game development enthusiasts, OpenGameArt features free textures, 3D models, music, and sound effects.
They have a search function that lets you filter by license, and there are over 3100 3D models available for download. You will also find 2D art on this site, along with source code for various mini-games. Finally, OpenGameArt is a great developer forum where you can learn new tips and tricks by using their message boards and tutorials.
Kenney Game Assets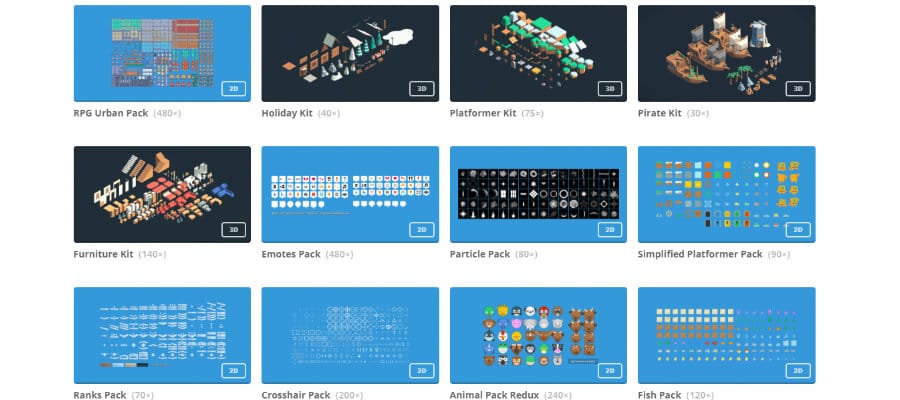 Kenney is a Dutch game developer who created this giant asset resource back in 2010 and has been updating it with new content ever since. They specialize in low- poly games and even have a 2D sprite editor called Kenny Studio.
All their free assets are distributed with a public domain license, so you can even use them for commercial purposes. And the collection is huge, with over 40 thousand images, audio files, and 3D models.
Kenney also has pixeland, which they call the world's first "indie game experience center". Basically, it is an online community for game devs, hobbyists, students, etc. to share ideas and artwork.
Itch.io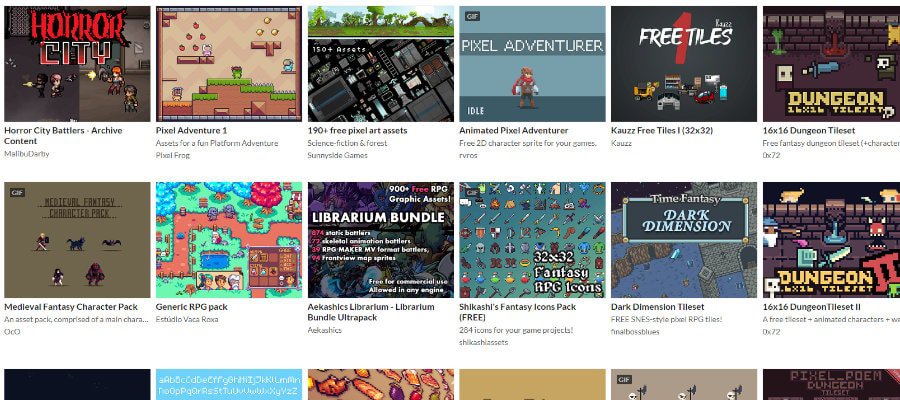 In this community-driven marketplace, you can choose from both paid as well as free content. Itch.io contains 2D assets, sprites, pixel art, parallax games, and 16- bit retro game packs.
The free asset bundles on Itch.io contain everything you need in order to create a little retro game- characters, tilesets, props, UI elements, decorations, and even soundtracks.
They have a wide variety of free games available for download and you can use these as inspiration for your next project.
Unity Asset Store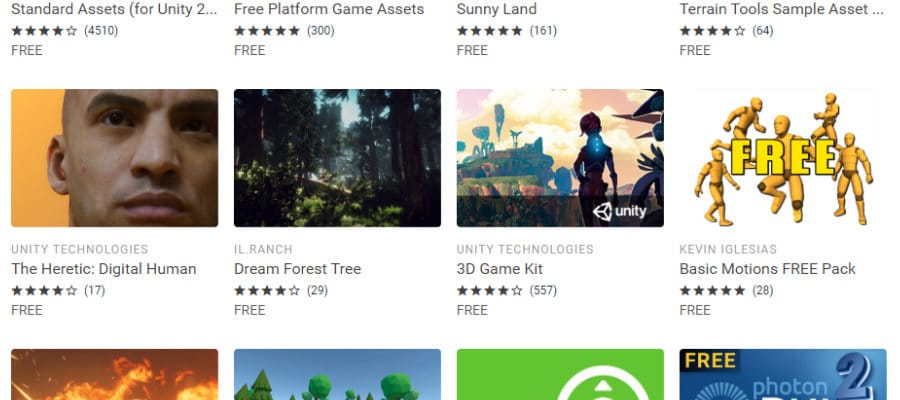 Simply the largest and most robust game asset site you can find. As a developer, you must have heard of the Unity game engine. It has been used to create games such as Assassins Creed, Deus Ex, Hearthstone, Ori and the Blind Forest, Cuphead, etc.
Apart from game development, the Unity engine is also used for architectural visualization through a virtual reality environment. There is a massive community build around the Unity engine, comprised of indie devs, AAA giants, college students, and 3D artists.
You have access to more than 1000 free 3D models, and these are on average better designed compared to 3D assets you'll find on nonprofit sites.
Just download a free copy of the Unity engine, access the store, download whatever free assets you want, and they will be automatically imported into Unity. You can save these assets in a project folder and use them in any 3D game engine.
Blendswap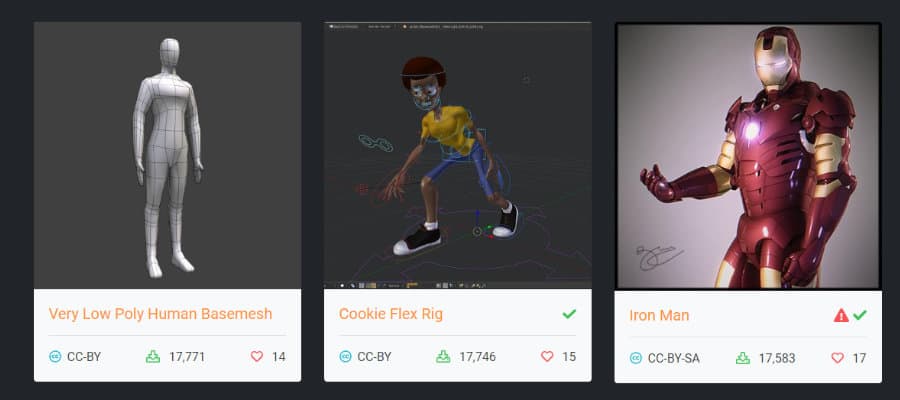 Just like TinkerCAD Things is the community-driven platform for TinkerCAD users to share their work with each other, Blendswap is the site for Blender enthusiasts to exchange 3D designs.
There are over 22,000 designs to choose from, ranging across a wide variety of styles and themes. You've got all kinds of 3D models to choose from- sarcophagi, iron man suits, cars, ships, boats, planes, guns, etc. And, all of it is 100% free.
The best part about this site is the forum where you can post questions and get answers from other community members. It's a 3D asset resource, developer community forum, Blender tech support site, all packaged into one.
Textures.com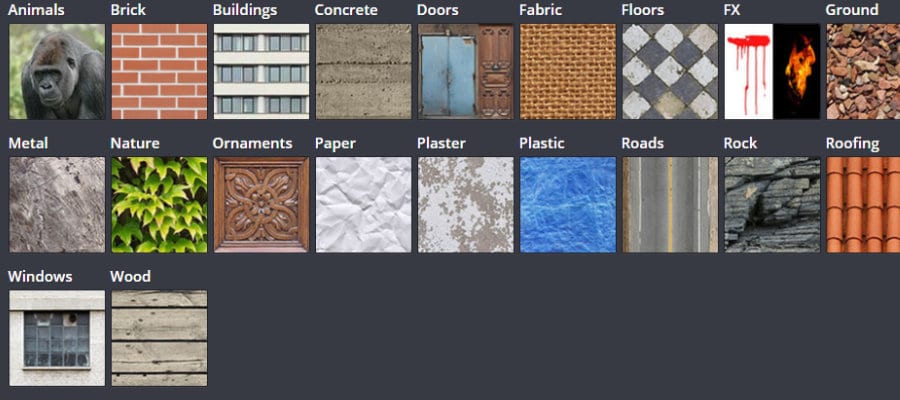 If you need high-quality textures for free, check out this place. With a free account you can download up to 15 images daily, and if you need higher resolution textures or more of them each day, you can purchase premium credits.
Textures were founded in 2005 as CGTextures.com and are now home to 134,089 images, a number that keeps growing regularly. Their assets have been used for games, graphic design, visual effects, etc. by companies such as PIXAR, Valve, Marvel, and Sony. Textures have scans of wood, fiber, plastic, brick, stone, and many more materials.
They recently added a new category called "Graphic Designs" which provides royalty-free books and magazine covers for CG artists. You will also find PBR libraries containing 3D image scans of various shrubs, leaves, flowers, tree bark, and other types of vegetation.
Google Poly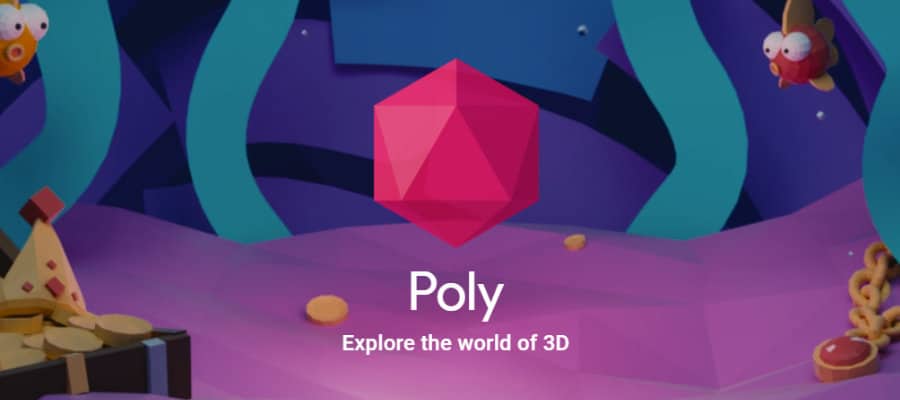 On Google Poly you will find various low polycount 3D models, with a very artistic design aesthetic. These 3D models aren't meant to be realistic looking. Instead, they use vibrant colors and cartoonish lighting.
Here, you'll find 3D block objects, sketches, artwork, animals, trees, faces, scenes, etc. The preview system in Google Poly for 3D assets is very intuitive, and they also have a "tour" function which gives you a 360° VR- like experience.
Freesound.org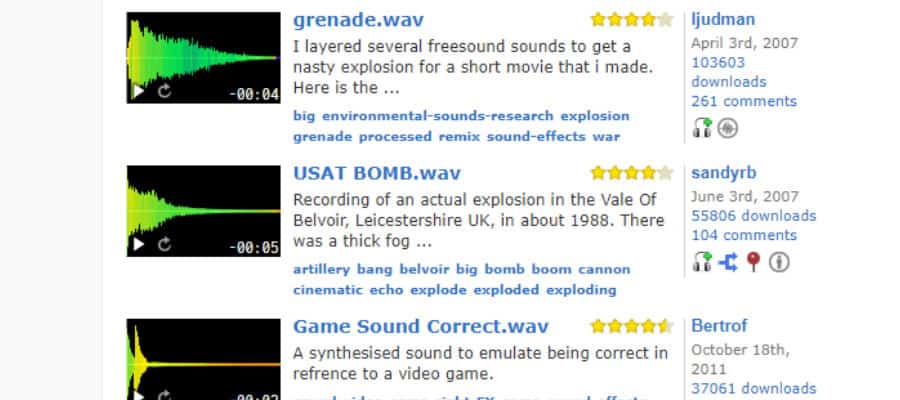 On freesound, you download audio snippets for your game that are being distributed under a Creative Commons License which makes them reusable and royalty-free. As a game developer, you will find pretty much everything here- snippets, bleeps, recordings, beats, atmospheric audio, etc.
There are sounds from birds, cars, guitars, rustling leaves, doors, and even aliens. Now pretty sure the alien cries are made up, but they do sound pretty convincing. Some of the horror tracks are really scary, you might want to check them out if you need to spook people.
NASA 3D Resources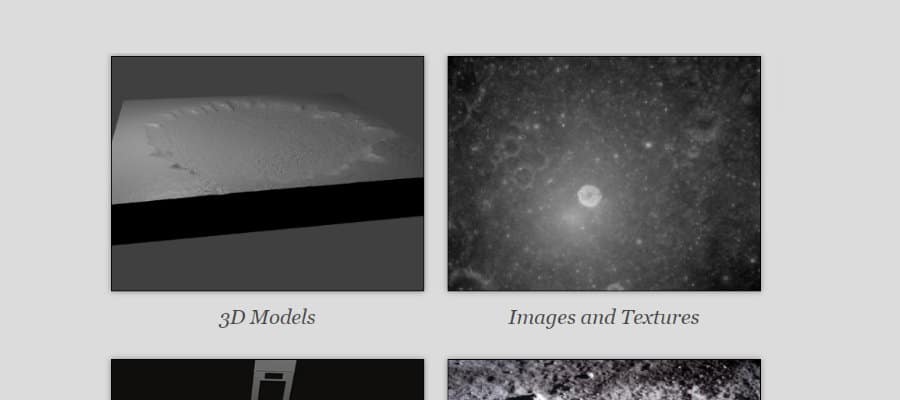 Yep, this is the same NASA that launches spaceships and lunar probes into space. What are they doing in the free 3D asset market you might ask? Well, NASA originally created this as a repository of 3D assets for educational purposes.
You can 3D- print historical objects from the field of space exploration- Apollo 11, the Curiosity Rover, or even the Hubble Space Telescope. And if you're creating a space-themed game with realistic graphics, these 3D models will be a perfect fit.
The site itself is extremely dull and monotone, but the resources it contains are anything but bland. This is a treasure trove for space geeks, NASA enthusiasts, game devs, and 3D artists.
GameDev Market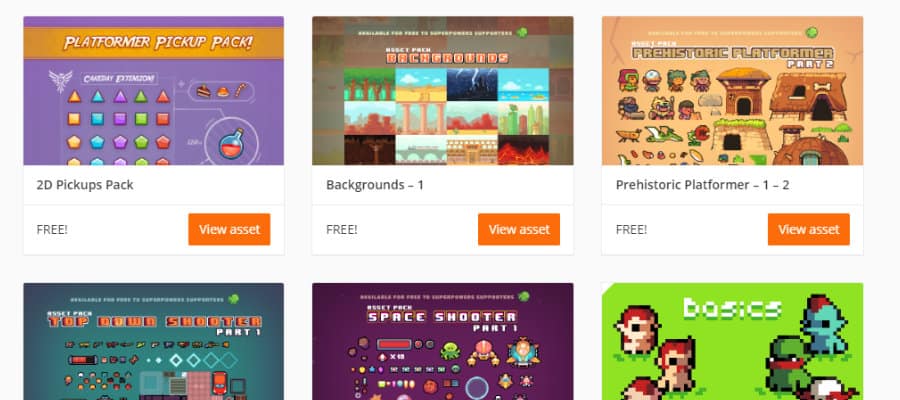 Just like Itch.io, this is a marketplace where artists sell their designs for a fixed price. But several upcoming artists will give away some of their artwork and 3D models for free, to create a reputation and hook in new customers.
Once they've built up a following, they will start charging money for the designs. As an indie dev with a limited budget, this is the perfect site for you to find free 2D &3D characters, sprites, audio FX, fonts, HUDs, etc.
CADNav
On CADNav, you get access to over 5000 free 3D models based on objects from the fields of engineering and architecture. At first glance, you might not think that any of these will be useful within a game.
However, a closer look will reveal that they have pretty much every mechanical object you can think of in the real world modeled as a 3D replica. And the site contains more than just mechanical objects. You've got beetles, ancient swords, dinosaurs, and gothic shields alongside fighter aircraft and laser guns.
And on top of all this, you can also download free texture maps and Vray maps.
Free3D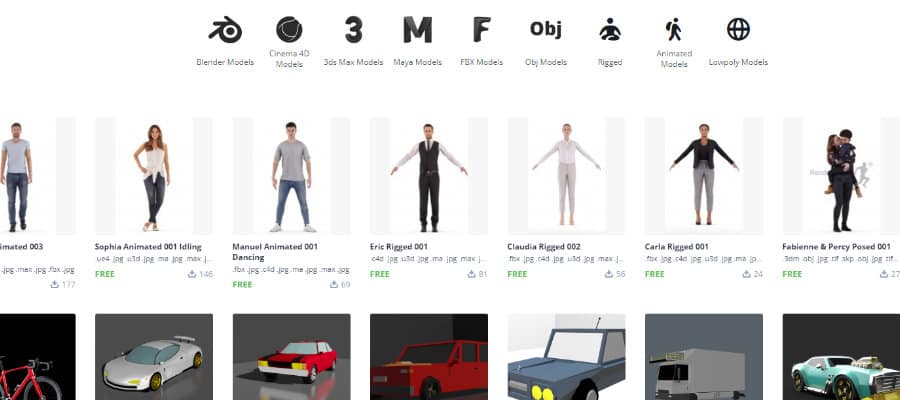 What sets Free3D apart from all other community-driven 3D design repositories is its crisp UI and intelligently designed category system. The site is updated with new 3D models on a regular basis, and artists submit portfolios containing multiple designs to showcase their skills.
Everything is sorted, so you can find exactly what you want without having to swim through a pile of junk. You can find some extremely well- made 3D models over here, for the unbeatable price of zero dollars.
Seriously, some of them look like they are worth a hundred bucks. And there are over 15,700 designs to choose from, so you have plenty of options no matter what type of game you're making.
There are Blender models, Cinema 4D models, 3ds Max models, Maya models, FBX models, Obj models, low poly models, and animated + rigged models.
CGTrader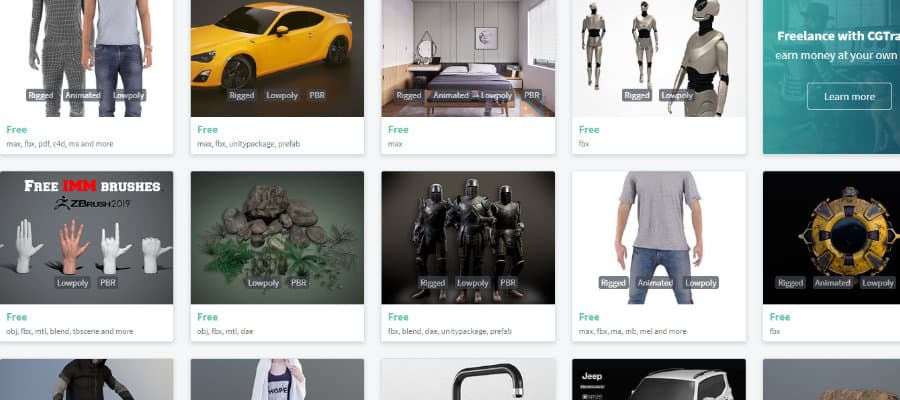 If you have the time to browse through a gigantic collection of free 3D models, check out CGTrader. This site is home to over 740,000 3D designs, all of which are available in a variety of formats for various 3D modeling tools- 3DS, C4D, FBX, MAX, and OBJ.
This isn't just a marketplace; it is also a freelancing site for 3D artists who can accept custom requests and sell their latest designs. You can also check out their 3D design job board for new job listings, and participate in community design challenges.
Sketchfab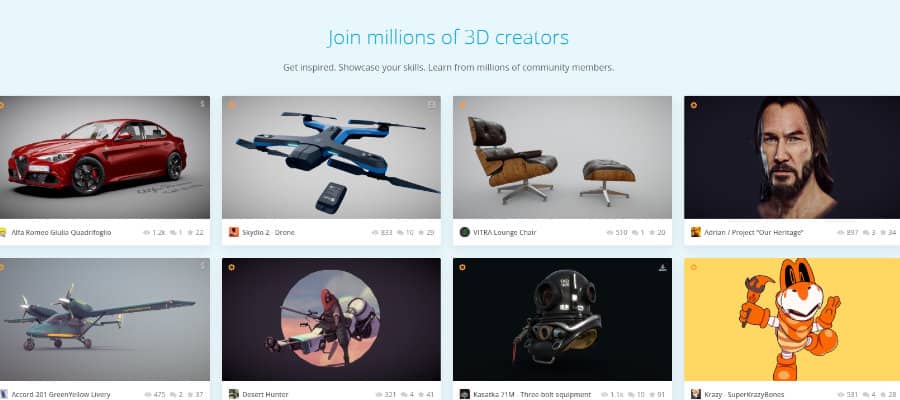 On Sketchfab, you will find user-created 3D designs that are primarily based around character models and sculptures. Their unique embeddable 3D model previewer allows you to share and view 3D models online, just like you would watch a video in your browser.
This 3D model previewer is cross-browser compatible and doesn't require the installation of any additional plugins. Yes, it also supports mobile platforms. You get to preview a 3D model's topology, textures, UVs, etc. before downloading it.
Finally, Sketchfab contains a wide variety of designs, ranging from low poly game assets to photogrammetry scans.
TurboSquid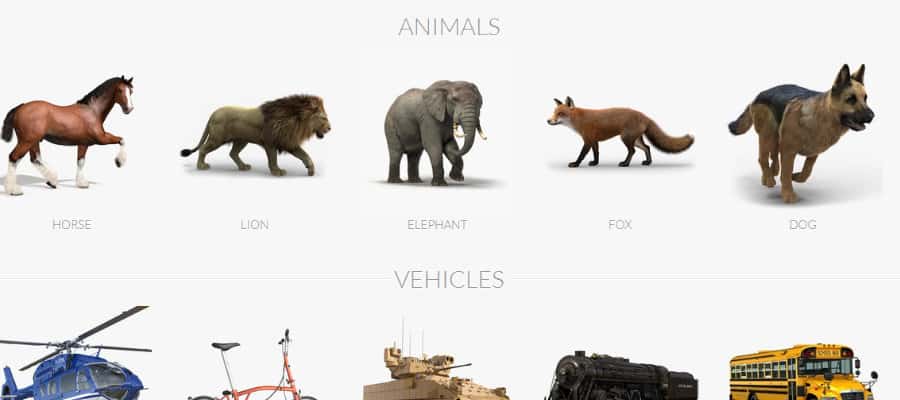 Unlike most other non- commercial or community-driven 3D design repositories, TurboSquid implements its own quality control program. This makes sure that anything you buy or download for free from their site meets certain minimum quality requirements.
So even the free 3D assets on TurboSquid could potentially be better designed than some of the cheap paid assets on other sites. TurboSquid uses its "CheckMate" QC program to analyze the scale, texture resolution, UVs, etc. of a given 3D model.
They see if the figures match up with what the creator specified in their description. If you want to keep your game free of poorly designed 3D models, TurboSquid is perfect for you.
Craftpix.net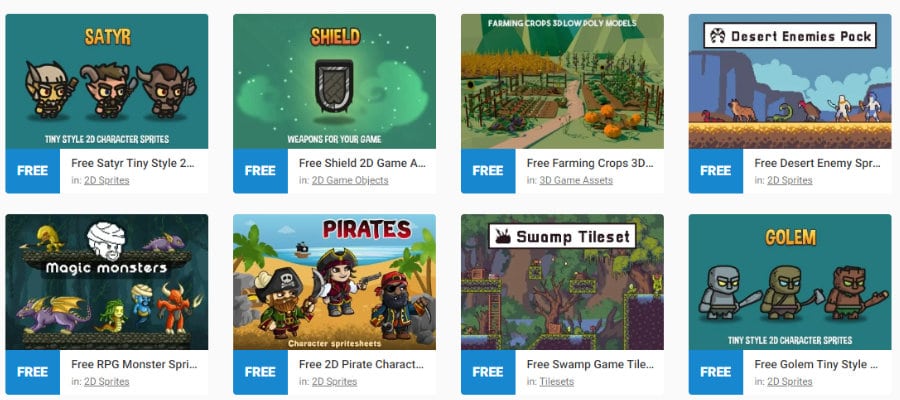 As a 2D game developer, you simply cannot miss this website. It contains all the assets you could possibly need to develop a fully functional, pretty little 2D game. Here you can get characters, sprites, GUIs, backgrounds, icons, tilesets, objects, and even complete game kits.
Visit the "Freebies" collection to get a look at their free 2D game assets. There are tanks, spaceships, icons, cute characters, cartoon forest backgrounds, and much more.
DMI Car 3D Models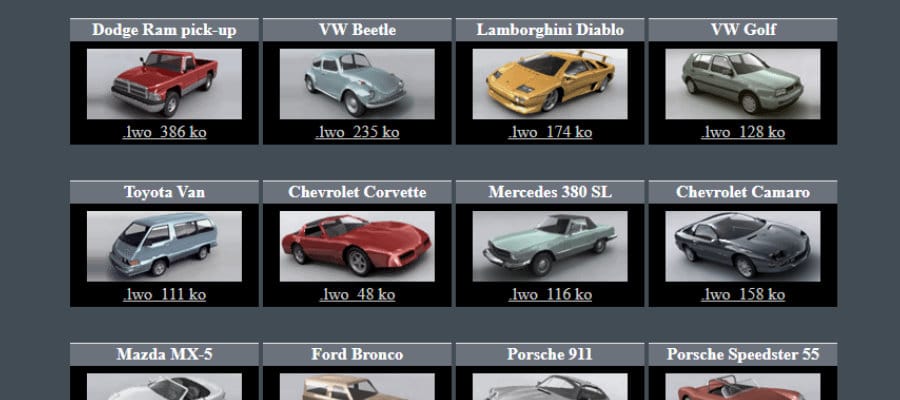 Are you working on a Need For Speed like a car racing game with realistic graphics? Well then, we have some great news for you- DMI offers high detail car 3D models for free!
Yep, that's right. You don't have to pay for these assets, and they are pretty high quality compared to some of the other free 3D vehicle assets you find online.
But, there's a catch- you cannot use these models for commercial purposes, and you cannot resell them. This means these models are intended for use in prototype games and private projects only.
On DMI Card 3D Models, you'll find all sorts of vehicles- hatchbacks, sedans, sports coupes, supercars, trucks, fire engines, vans, etc.
TinkerCAD Things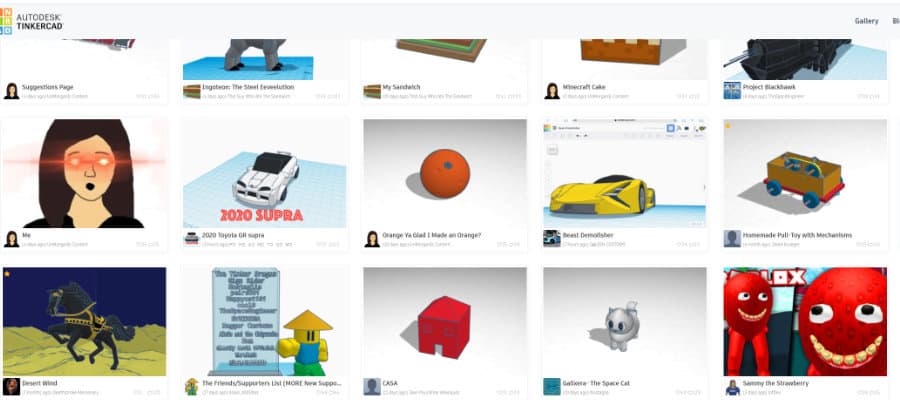 This is a community-driven site and is populated by 3D models derived from Autodesk's free TinkerCAD software. Enthusiasts, artists, indie devs, etc. create their designs in TinkerCAD and share them with each other via this site.
You will find all sorts of models in here, ranging from cruise ships to mecha- dragons. The level of detail can vary greatly between various designs. This is because there are a lot of amateurs submitting their work to this site, alongside veteran 3D artists.
Oyonale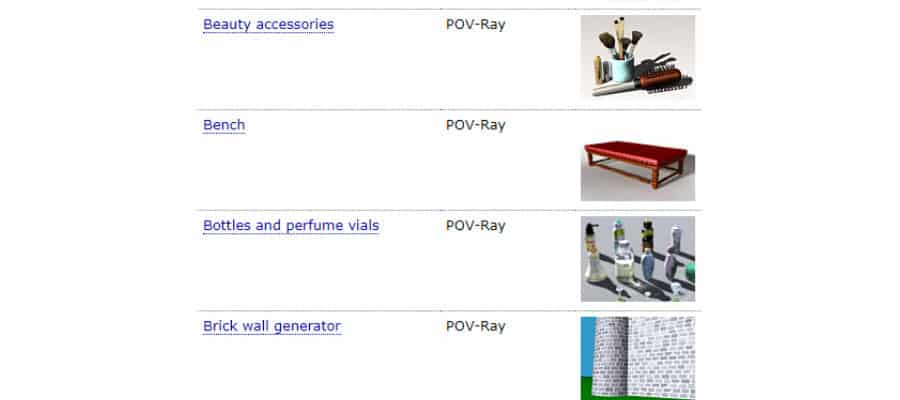 Despite its dated UI and clunky search system, Oyonale is a vast resource of 3D assets including everything from animals and vehicles to spaceships and futuristic weapons. Most of the designs on this site were created with POV- ray, Cinema 4D, FinalRender, and Poser.
Game-Icons.net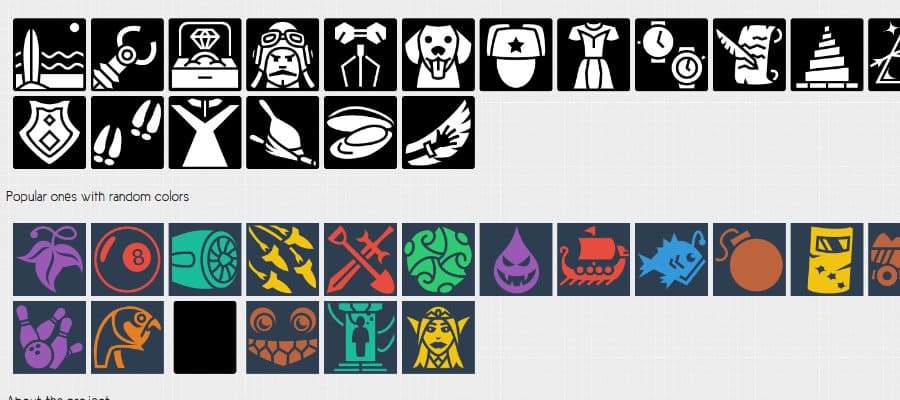 Want access to over 3500 free icons for your games? They have over 2000 variations of monochromatic icons and a bunch of icons with colored foregrounds. Most of the icons are generic, relatively simple patterns on top of a mono-color background.
You can download the images in vector format, so tweaking characteristics like color or blur should be pretty easy. There are plenty of themes to choose from- animal, weapon, plant, monster, sword, liquid, etc.
Reiner's Tilesets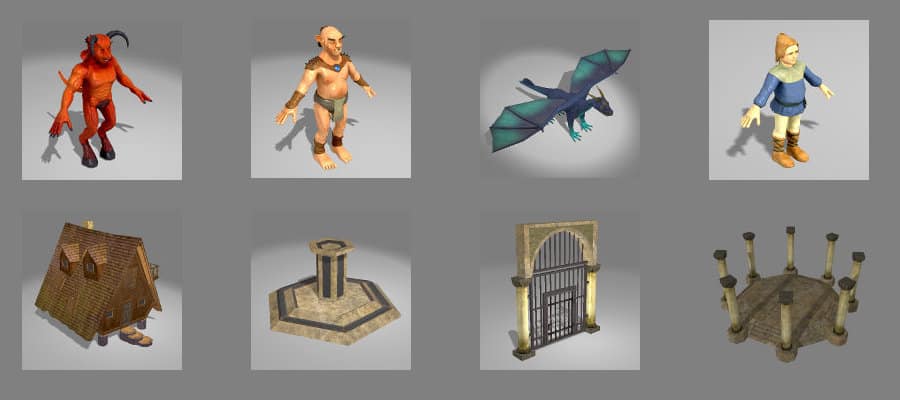 Maintained by Reiner "Tiles" Prokein, this website is THE best source of free tilesets on the internet. The assets on this site are optimized for games that utilize an isometric view. There are sprites for plants, animals, buildings, weapons, etc. along with a bunch of special effects.
If you want to create a little RPG, the resources on this site are invaluable. The art style is detailed and realistic looking, with a Diablo 2 feel to it. If you've played the old age of empires games, you should love the 2D animals on Reiner's Tilesets.
Conclusion
The gaming industry is a place where thousands of minds come together under the same banner to create a singular product. Games are a sum of intellectual properties contributed by various individuals.
This is why, there should be zero confusion as to who owns the art, logos, UI elements, code, etc. involved in the creation of any game. Being an indie developer or tiny startup, you cannot afford to take legal risks with licensed content.
Since you will be working with externally sourced game assets most of the time, make sure to thoroughly check the source of each asset. Verify the license, and check if it is suitable for commercial use. As a disclaimer, we aren't providing legal advice here and only intend to make you familiar with licensing basics.
This article is not meant to serve as a comprehensive legal resource, so make sure to seek independent financial/ legal advice on these matters if you aren't sure.