Free game art creation software has come a long way. There are raster image editors, vector image editors, 3D modeling suites, and tools that are specially designed for creating pixel art you find in retro-themed games.
A lot of these free software packages have functionality that is comparable to paid tools, so I definitely recommend giving them a try if you're an indie dev on a budget.
Free Graphic Design/ Image Creation Software
There are two types of digital images- raster and vector. The first one, "Raster" is composed of pixels, what we would call a "traditional" image. Raster images use bitmaps to store information and aren't perfectly scalable across multiple resolutions.
Vector graphics, on the other hand, uses mathematical equations to place lines in a 2D/ 3D shape. A vector is something that has both magnitude and direction. The direction is already predefined via vector statements, all that changes when you scale the image from a desktop down to mobile is the magnitude. This ensures zero loss of detail.
Photoshop is what we would call a raster-based image editor. Illustrator is a vector-based editor. But both of those are really expensive, so I decided to review some free vector and raster image editors which you can use to create game art.
Autodesk Sketchbook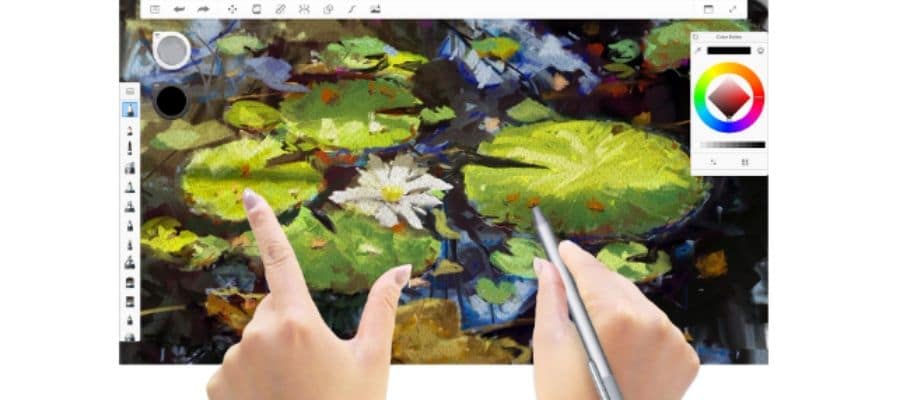 I remember this software going free sometime in 2019, and game developers/ artists all over the world rejoiced at the prospect of being able to create amazing artwork with free software. It has a very intuitive UI and feels more like drawing on a canvas or paper with an actual brush/ pencil.
And you know what's the best part about Sketchbook? It is available on all devices- everything from your workstation at home to the phone in your pocket. Making a quick concept sketch is super easy since the interface is very minimalistic, you've got everything you need right where you want it. No clutter, no obnoxious performance hiccups.
Plus, you've got a wide range of tools at your disposal. Everything from digital pencils and markers to over 190 types of customizable brushes which can be used for both textures and shapes. You can start a rough sketch in Sketchbook and export it into Photoshop to apply some finishing touches. Yep, Sketchbook can export in PSD.
You preserve the layer names, groups, and blending modes. Plus, it can export in a variety of other formats- JPG, PNG, BMP, TIFF, etc. For an individual license, you have to pay exactly ZERO money. Although, it does ask you to sign in with an Autodesk ID after the trial period of 7 days is over (creating an ID requires no payment).
One of my favorite features within Sketchbook is the Rapid UI system which is designed to keep the canvas clean, and it changes the layout dynamically based on your actions. For instance, on a tablet, the UI won't even appear until you drop your hand/ pen on the screen. You can run your stylus through the menu bar, and it will shift out of sight until you've gone through the entire menu section.
Scan Sketch allows you to "scan" a physical drawing with the tablet/ phone camera. Then this drawing is digitally reproduced on your workspace, and you can even choose to make the white paper background transparent. Selecting colors is super easy thanks to the Eyedropper tool. It is summoned with a simple tap and holds, and once you have your stylus on the color you want, simply let go to select it.
Transparent color means you can switch your brush into an eraser while retaining the same nib settings. Talking of brushes, did you know how easy it is to download brushes and even brush packs? Whether you're designing background art for your upcoming indie title, or a shirt, Sketchbook is one of the easiest and fastest ways to get your creative vision from within your brain to the real world.
Despite being completely free, it is used by both hobbyists as well as professionals. Sketchbook comes with an assortment of useful tools including guides, rulers, stabilizers, transform, distort, etc. It even lets you do flipbook animation.
You can also animate images and character art with the Motion system within Sketchbook. Basically, you import an image, draw the animated sections, and place all of it in different layers on top of each other. You can also create an image from scratch to be animated.
GIMP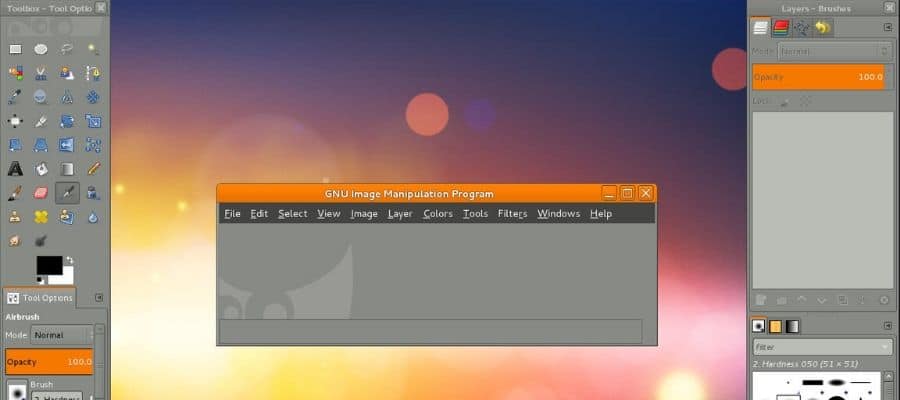 GIMP stands for GNU Image Manipulation Program, and it is the go-to solution for people who want a reliable, feature-packed image editor that's 100% free and open source. A lot of enthusiasts consider it a free alternative to Adobe Photoshop. And it actually does pack capabilities that are similar to that of paid software such as Photoshop or Illustrator.
This is a multi-purpose tool and can be used for everything from game art to photo retouching. GIMP is supported on pretty much all PC platforms- Mac, Linux, BSD, Windows, Solaris, etc. If you want to work with raster graphics, this is the ideal software. It has a bit of a learning curve, but once you get used to its tools, the possibilities are endless.
You get a lot of the same features Photoshop has, including heavily customizable brushes that come in handy for working with pixel art in games. It also contains advanced filters and tools for managing layers, paths, etc. GIMP lets you create sprite sheets, textures, cover art, concept sketches, backgrounds, icons, animated 2D images, and much more.
Scripted image manipulation is supported via multiple languages such as C, C++, Python, etc. The color adjustment in GIMP is quite advanced, and it has some really good noise reduction features too. For advanced artists, it packs Bezier curves, layer masks, animation packages, etc. And just like Photoshop, there are plenty of plugins you can download on GIMP to enhance your experience.
Inkscape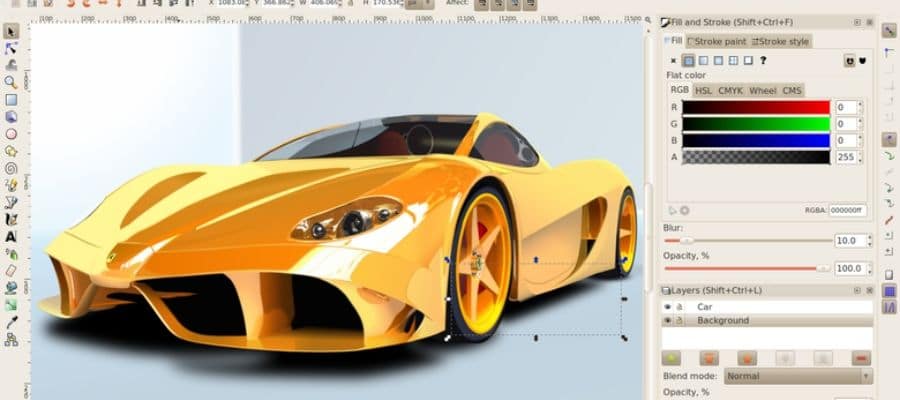 Free and open-source, Inkscape is a vector image editing software used by game designers, artists, illustrators, and web designers. It is ideal for creating 2D game assets such as characters, props, icons, buttons, and even simple animations. You'll love the fact that Inkscape is easy to use, yet very comprehensive in its feature set. Inkscape can even work on AI (Adobe Illustrator) files.
Some say that Inkscape is to Illustrator what GIMP is to Photoshop. It is compatible with a wide variety of formats- SVG, EPS, PostScript, JPG, PNG, BMP, TIP, etc. Inkscape features complex filters and effects, and node editing within this software is super easy. Nodes are basically controlled points within vector graphics that are associated with some mathematical operations.
With Inkscape, you can easily manipulate these nodes by moving them around, inserting new ones, etc. Bezier handles assist with node movement, and tools exist within Inkscape to make a selected node symmetrical. Advanced SVG features like markers, clones, and alpha blending are also supported.
Multiple tools exist within the software to manage vectors, and each tool has its own settings window to reduce clutter within the UI. Apart from the tools already included within Inkscape, you can also download plugins. To summarize- Inkscape is an excellent open-source alternative to Illustrator. Anything you do in Illustrator, you can in Inkscape as well. Manipulate image shape, fill gradients, apply filters, modify layers, distort, etc.
Gravit Designer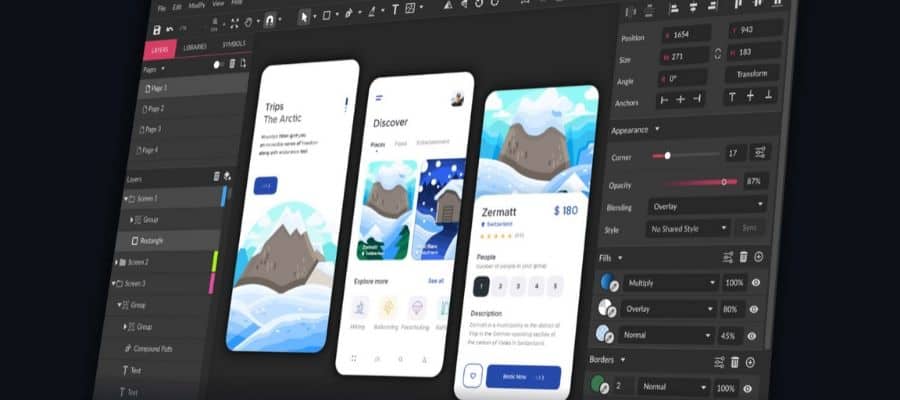 Create a menu screen for your mobile game, a character model, or parts of the environment in your 2D side scroller with this completely free vector graphics editing software. Gravit looks and feels like a professional-grade application, one that you would pay for. And it is still receiving regular updates that add features and remove bugs.
Just like GIMP, Gravit is multi-platform. So you can access it from your iMac, iPad, Windows desktop, Chromebook, and Linux laptop. And it works online, so all you need is a good browser and fast internet for a seamless experience. There is an offline version too if you want a more local experience on your desktop.
Gravit is super awesome if you're a newbie to game art design since the UI is clean and design with a context-sensitive approach. The major tools have tooltips providing detailed explanations of what they do, and you even have videos demonstrating what the tool does. Almost all operations within Gravit involve non-destructive editing so you can always retrace your steps and experiment without having to worry about ruining the material.
A wide range of file formats is supported- SVG, EPS, JPEG, PNG, and more. It has extremely flexible export options, and you can always review your work one final time before you export thanks to the advanced navigation options. Want to remove the UI and look at that awesome art in fullscreen? There's a shortcut for that.
Want more zoom than a scanning electron microscope? Gravit will zoom in up to 25,600% so you can see every little detail. You also get multiple viewpoints for the same project at each zoom level. Panning around your work feels smooth and easy.
This software isn't all about ease of use and simplicity. When you need advanced features, they are right there at your fingertips. Smart shapes, live Boolean operations, object styling, conversion of shapes to editable vector paths, etc. are all included within Gravit. A design tool lets you create perfect curves without even trying.
A knife tool exists which allows you to make all sorts of straight and curved cuts through multiple object layers. You have access to a wide range of vector manipulations like joining/ splitting paths, converting a path to an outline, expand/ shrink path contours, etc.
Freehand vector drawing allows you to create freeform vector paths, with automatic smoothing to back you up. Hand-drawn artwork is really easy to make with the freehand shaping tool which lets you add and remove details on the fly.
Krita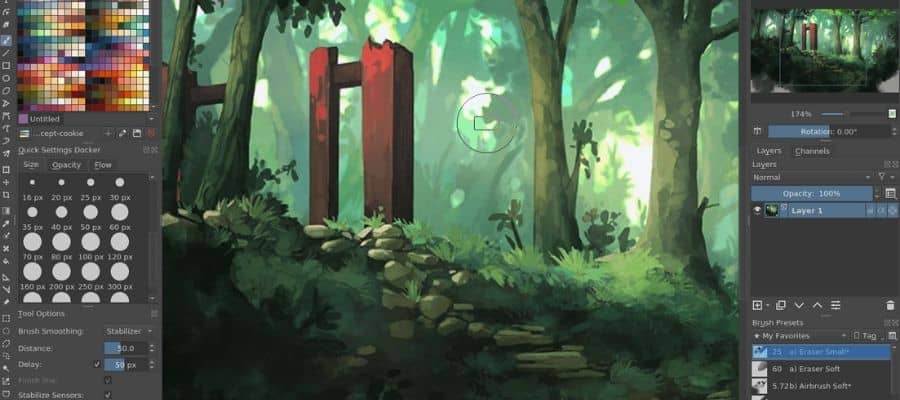 Frame-by-frame animation, vector art, digital painting- Krita does it all. It can be used to create game assets and character models that you can then export into another program for modifying or animating. Krita's canvas includes grids and guides along with excellent scaling, mirroring, and rotation options. Want to paint patterns? Krita has a multi brush tool for that, and it also has a symmetrical painting mode.
With repetition mode, you can quickly replicate tiles and images within the canvas grid. Painting in Krita feels awesome thanks to the built-in brush stabilizer which smooths things out and compensates for your shaky hands. The brush engine is extremely advanced, and you can tweak pretty much every aspect of your digital brush (or brushes).
Brush tip, opacity, color, flow, and painting mode can all be edited on the fly. Non-destructive editing is super easy within Krita thanks to the advanced layer system which lets you modify, import, and add/ remove individual layers without harming the host document. Game artists will also appreciate the fact that you can pin reference images to your canvas, and pan around to check the reference image while working.
Recursive editing makes sure you can apply edits to all your layers within the document at the same time, and it is non-destructive. Krita also lets you write your own addons in Python.
Vectr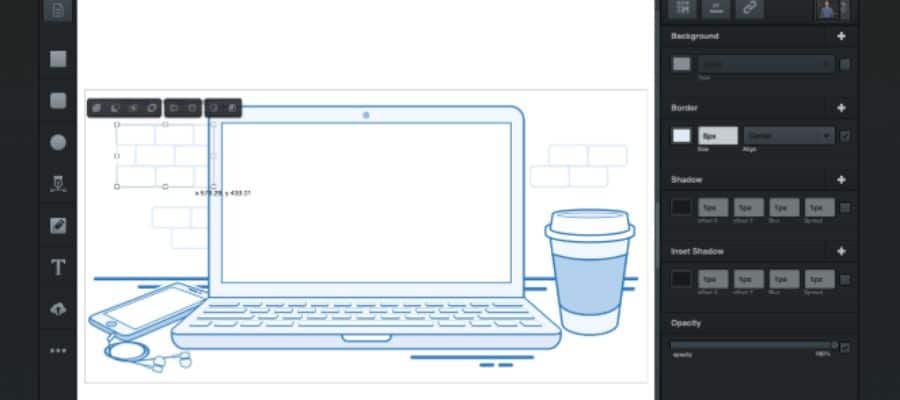 If you want a web-based cross-platform vector image editor, this is it. Vectr isn't the most popular free art design software out there, but I've heard it's quite popular with students and beginners due to its simplistic UI and clutter-free design. There are a bunch of tutorials on their official Youtube page and website, so I highly recommend checking those out if you wish to use Vectr.
In terms of features, it isn't comprehensive, and certainly not meant for serious game designers working in large studios. But for some quick concept sketches, it is absolutely perfect since you can take it with you on the go. All files across multiple devices are synced in the cloud, so if you or a team member made changes, it is super easy to examine and edit.
The best part is that your colleagues and friends can watch you design stuff live. Vectr has a desktop application too, which you can download if you don't want everything to be web-based.
So, what can you use Vectr for? Anything from sprites to concept sketches. Wouldn't recommend this for complex or large projects though, since it is sort of barebones when compared to other options like Gravit or Krita.
Free 3D modeling software
3D modeling is the process of creating a mathematical representation of an object's surface in 3D space via specialized software. The result is a model consisting of polygons that have vertices with 3-dimensional coordinates. There are several industry-standard premium software suites for designing 3D game art.
But today we are all about free and open-source software. Three of the most popular ones are Blender, TinkerCAD, and for artists (which is essentially a facelift of Blender). My focus is on creating and rigging the 3D model, not necessarily on animation and integration into a game engine which is a different story altogether.
If you're making a 3D game, these solutions might interest you. You can also make 2D art from renders of 3D models.
Blender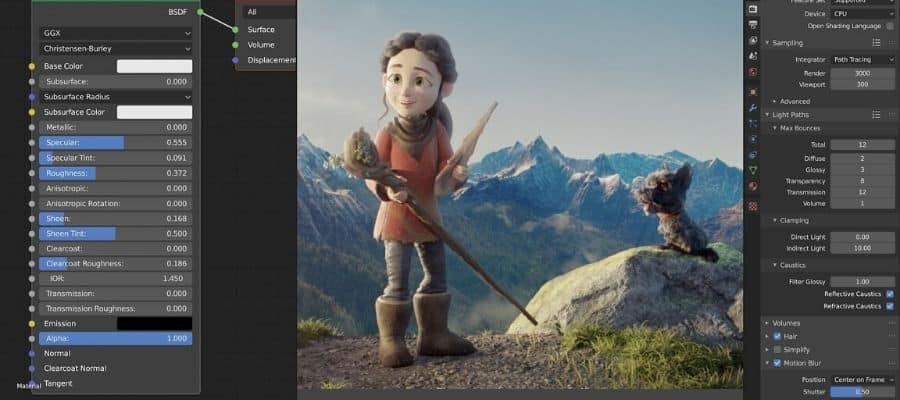 You might have heard of this one, even if you're relatively new to game development or art design. Blender is an open-source 3D creation suite that lets you create character models, environments, props, and much more for your game. You get access to all the code when you download Blender, and you're free to modify it as per your needs.
With each passing year, new and more advanced features keep getting added to Blender, with old bugs and performance glitches being removed simultaneously. It's cross-platform, so you should be good to go on any one of the three major platforms- Mac, Windows, and Linux. Often, game developers will develop a 3D model in Blender and export it into a game engine such as Unity or Unreal for further work.
Since we're talking about free stuff in this article, you might also want to check out my list of free game engines to use alongside free art creation software. You can create a model in Blender, do the textures, lighting, painting, and UV mapping- all in a single package. It is also good for animation, but that topic is for another day.
Oh, and did you know Blender also works as a video editing software? I covered that in my list of free video editing software. Blender also incorporates a game engine with a rendering engine of its own, but I recommend going with Unity or Unreal if you're serious about game development. But for creating assets, Blender is really good.
It's on par with paid modeling software in terms of functionality, provided you put in the time and effort to learn its quirks. Want to model and rig a cool-looking sci-fi robot or futuristic sports car? Blender is the software for you. It is also excellent for creating detailed 3D environments in larger game projects.
Autodesk TinkerCAD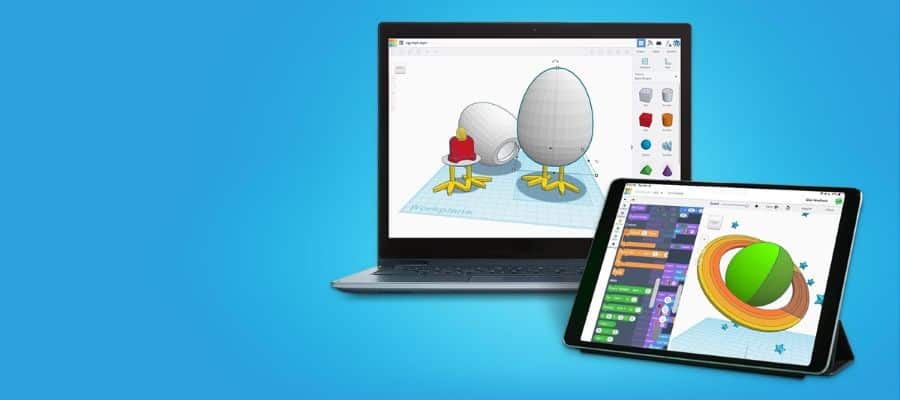 Most industry-standard 3D creation software has steep learning curves, due to its complex nature. If you want powerful 3D modeling software, you have to spend the time order to learn how to harness that power. But TinkerCAD is quite the surprise in that it is actually quite easy to get started with, even though it comes from the same company that makes 3DS Max and Maya.
And yes, it is completely free. In fact, you can get started right now. It requires no download and is web-based. The best part of TinkerCAD is how versatile it is- you can use it for everything from STEM research to electronics and 3D printing. Oh, and of course- game art design.
Create character models, backgrounds, props, and more. It is ideal if you're looking to make some basic 3D models for proof of concept, but don't have the time or expertise to implement it in Maya or Blender. Highly detailed and complicated models are much better done in Blender, but basic stuff like in a low poly cartoonish character can be done on TinkerCAD as it allows you to quickly create and combine basic shapes.
TinkerCAD is also compatible with 3D printing, so if you have a 3D printer you should definitely give it a try. Since TinkerCAD is browser-based, there is a limit to how much you can sculpt and detail the shapes beyond simple primitives like cubes and spheres.
Modeling tools within TinkerCAD are pretty decent, and it has a fair amount of functionality built-in like parametric editing tools, free-form editing tools, symmetric editing, etc. It also has drawing tools for coming up with basic 2D shapes.
The Scribble tool lets you hand draw in 2D, and a viewport on the side will project the 3D interpretation of your drawing in real-time. This is great for creating custom designs and shapes, really quick.
bforartists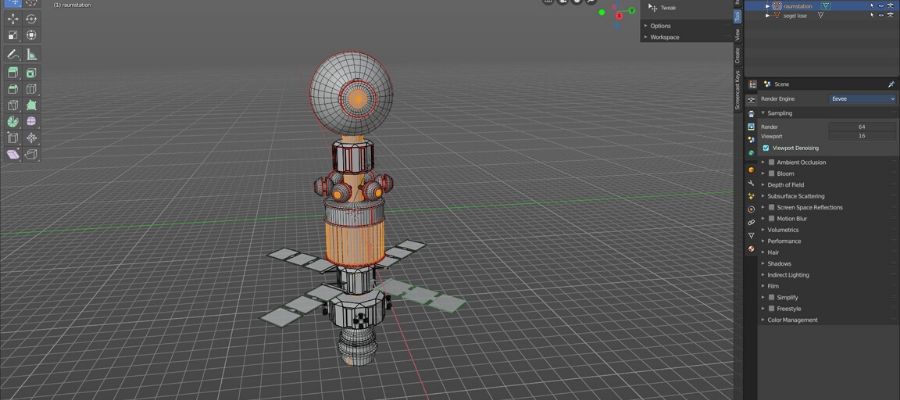 Aimed primarily at artists and indies, this is a fork of Blender and focuses on having a simpler and more intuitive UI compared to regular Blender. The latest version is bforartists 2, and it removes a lot of unnecessary menu entries and adds a configurable toolbar with icon style buttons.
The tooltips and documentation are supposed to be better than what Blender offers, and usability has been improved by adding features such as reset 3D view and Set Dimensions. Bforartists take the Blender manual and rewrite it so the structuring and explanations are more approachable for non-professional users who are more interested in art rather than coding or animation. Basically, think of it as a Blender facelift that is more approachable and easier to work with.
With the release of Blender 2.8x, one of the major focal points was an improved UI. This means that bforartists might not last very long because Blender is gradually becoming more approachable. But if you are interested in the idea of a more beginner-friendly Blender, I highly recommend you give it a try. Here's a really nice video explaining how bforartists differs from Blender, and why you should try it.
Free Software For Creating Pixel Art
If you've played games such as Stardew Valley, Shovel Knight, and Broforce, you must have noticed that they have a very unique "retro" look to them. Such art is called pixel art, and it consists of images edited on pixel level.
This aesthetic is inspired by 8 and 16-bit game consoles/ home computers from the 80s. In this section, we will discuss some of the most popular free-pixel art image editors. These editors allow you to create game art on a pixel-by-pixel level, to truly relive the nostalgia of the 80s.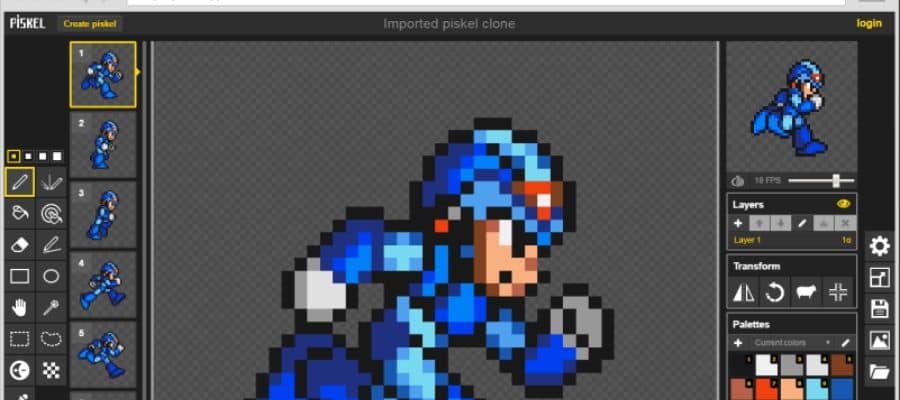 A free online pixel art/ animated sprite creation tool that is open source. Plus, you can simply sign in with your existing Google account, no need to create a new account exclusively for PiskelApp. An offline application can also be downloaded, and it is cross-platform so you can run it on Windows, Mac, and Linux.
You can export your finished image in various formats- PNG, GIF, ZIP, etc. And there is a special private gallery where you can keep all your sprites and pixel art without having it displayed to the general public. Upon starting, you will be presented with a minimalistic UI and a blank canvas. There are several tools like the pen, color picker, shapes, stroke, move, eraser, dithering, etc.
Multiple transform options like Flip, Rotate, Clone Layer, and Align Image are also included. Pen size can be changed between 1 to 4 pixels, and multiple keyboard shortcuts are supported. You can create simple animated sprites by creating new frames for the image and there is a slider to let you select the animation framerate (default is 12FPS, max is 24FPS).
GraphicsGale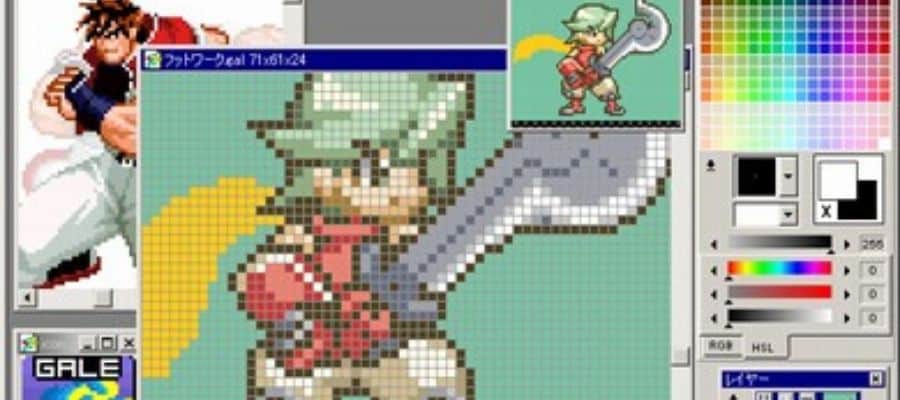 This is available as shareware for Microsoft Windows and is a great tool for creating animated sprites. You can use it to create 2D characters, backgrounds, menus, icons, and much more. It has alpha blending for multiple layers and frame-by-frame animation support. Real-time preview helps you make edits and see the effects without having to pause your workflow.
While you draw, there is this special feature called Onion Skin which superimposes the previous and next frame in a see-through fashion on top of your current frame. The color management system unites duplicated colors and removes unused colors. For painting, you get a pen tool as well as various shape tools.
You can draw lines (straight or curved), rectangles, ovals, spline curves, and more. It is possible to convert the format of multiple files with batch conversion. Animations can be outputted as multiple files or a single combine file. A wide variety of input and export formats are supported.
PikoPixel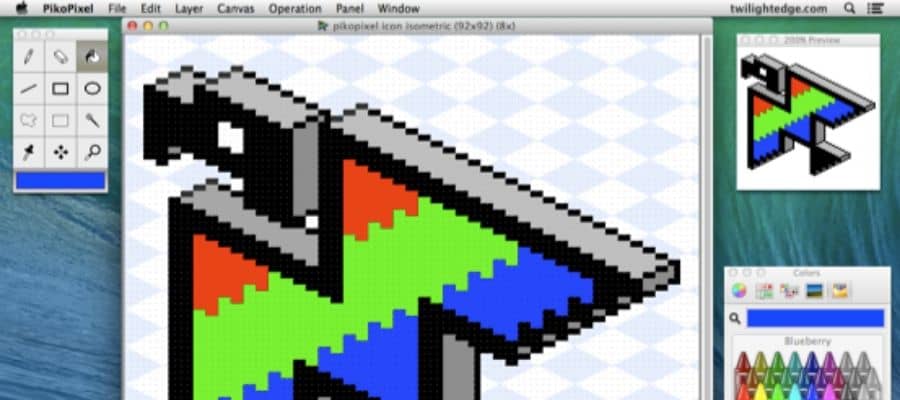 Easy to use and noob-friendly, PikoPixel is an open-source pixel image editor software available for macOS, Linux, and BSD. This software allows you to infinitely undo changes, so there is less risk of messing up. And there are hotkey-activated popup panels to reduce UI clutter around the canvas. Talking of canvasses, the canvas in PikoPixel is customizable.
You can change the layout and background quite easily, and multiple layers are supported. Linear (gamma-correct) color blending is included, and you will be able to navigate through the menu quite easily since everything is pretty much self-explanatory. Ideal for beginners to pixel art and sprite creation.
LOSPEC Pixel Editor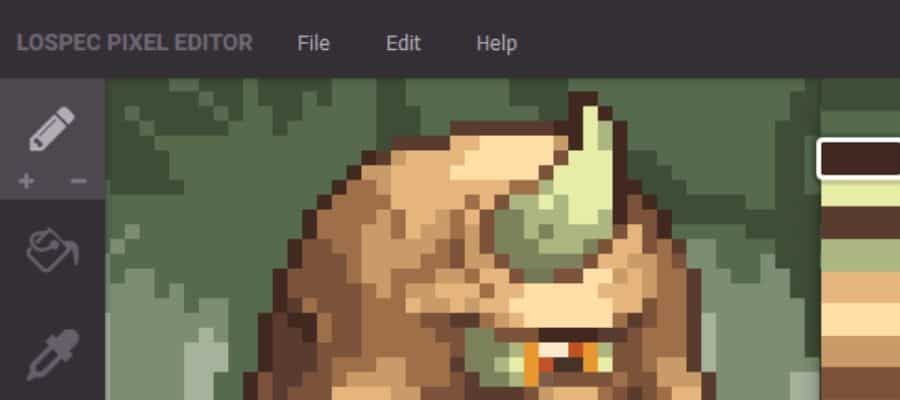 Want to create some 8-bit game art really fast in your browser? Check out LOSPEC Pixel Editor, free software that is still under development and receiving new features regularly in the form of constant updates. You'll need an up-to-date version of Firefox or Chrome, and a desktop platform (no support for mobile devices as of now).
Ideal for first-time pixel artists, LOSPEC is pretty basic in terms of the tools it offers. You get a pencil, eraser, fill, pan, eyedropper, and zoom-in tool. Color palette options are easy to access, although the functionality isn't on par with PiskelApp or GraphicsGale. There is a rectangular selection tool, as well as a pan tool.
You can increase the brush/ pencil size and choose from multiple color palette presets. When you go to create a new project, it lets you choose from 3 different preset modes- Gameboy Color, PICO-8, and Commodore 64. In terms of color presets, you've got a few user-submitted palettes to pick from.
GRAFx2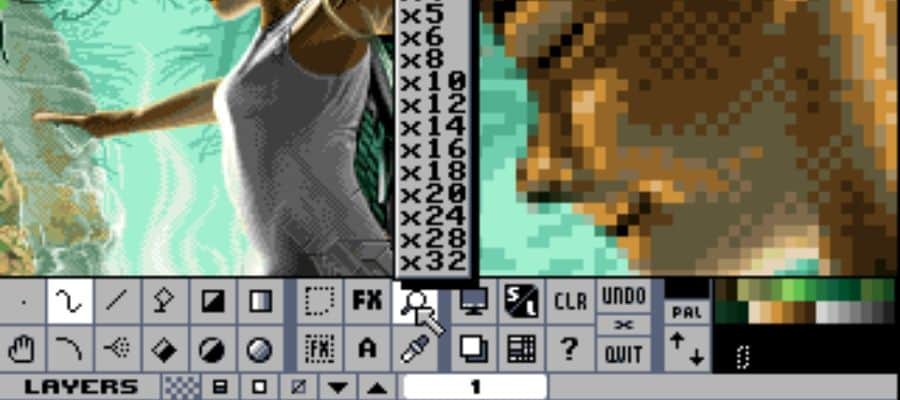 A bitmap hand painting program with a variety of tools makes it an excellent choice for pixel graphics, game art, and sprite sheets. Inspired by the Amiga Deluxe Paint and Brilliance bitmap editor programs, LOSPEC Pixel Editor is optimized for 256-bit color drawing. There are a variety of brushes, line tools, and line/ circle tools.
You also have the airbrush, spline tool, gradient-filled shapes, and customizable brushes. Merging two images is easy thanks to the common color palette generation which reorders colors without changing the image.
You can use shading mode to add anti-aliasing without any of the gradient effects. There are multiple effects built into the software such as transparency, smoothing, smearing, etc. Scripting is implemented via Lua to automate large operations and perform complex image manipulation. If you're developing 8 and 16-bit systems, this is the ideal software for you. It is also possible to create and export GIF animations by slapping together multiple frames. While this software has been around since the 90s, it is still receiving updates to this day.
Pixlr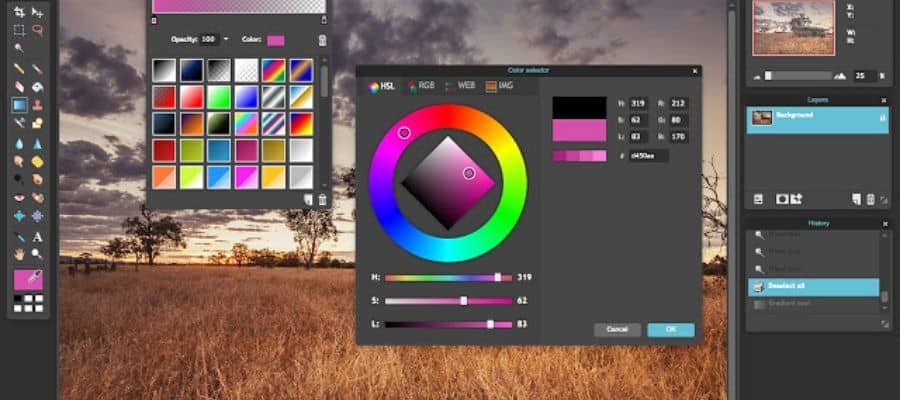 Compared to other pixel editors on my list, this one is slightly more advanced and is definitely geared towards experienced artists who have worked on pixel art before. Just like PiskelApp, it is web-based but offers much more functionality that extends beyond 16-bit game art. Pixlr boasts a clean UI and had advanced layering features.
You can select an image from your desktop or enter an URL to start editing. Or, you can create an image from scratch like you would with pixel art. While the traditional online pixel art editors offer simple tools for cropping, zooming, and resizing, Pixlr takes it one step further by introducing several cutting tools- shape, lasso, drag, and magic.
These cutting tools let you create compositions from multiple images with relative ease. Pixlr is a full-fledged image editor, similar to Photoshop which is why it has an extensive selection of filters along with options to tweak things like vibrance, highlights, shadows, contrast, brightness, etc. You can even create your own brushes by adding parameters for step, angle, aspect, etc.
Conclusion
I hope my list helps you in your game design endeavors. I tried to include software that is not only popular but still being updated and maintained. Are there any other tools that you've heard of/ used which you would like to see on this list? Shoot me a message, and I'll definitely look it up. My list contains a variety of choices for people from all walks of game design.
There is software for beginners with clean and clutter-free UI, but you sacrifice functionality for an easier learning curve. Software like Blender, on the other hand, is ideal for the hobbyists and enthusiasts among you who wish to take game art design seriously and make a living out of it someday.
And a lot of the software on this list is multipurpose, so you can do more than just create sprites and models. For instance, Pixlr is a comprehensive image editor like Photoshop which can be used for everything from cover art to photo retouching and color grading.
The raster image editors like Gravit and Vectr can be used for print designs, illustrations, presentations, billboard art, and more. Free software has come a long way, and I am excited to see where it will go in the near future.